Bhutan is no ordinary place.
This Himalayan kingdom that borders India may be small in size but not in stature.  It's a land of soaring mountain peaks and beautiful Buddhist monasteries, filled with magic, myth and momos, where thousands of prayer flags flutter in the wind, tigers fly through the air, and happiness rules.
Now, there's no doubt that the motherland can hold its own, but here are 9 ways the Land of the Thunder Dragon can give India a run for its money:
1) Bhutan doesn't have traffic signals
That's right. It's the only country in the world that doesn't have a single traffic light in its capital city. Instead, Bhutanese drivers rely on the elegant gestures of white-gloved traffic policemen in blue uniforms who stand in quaint kiosks. Allegedly, at one point, they tried replacing them with traffic lights, but it didn't go over so well with the residents who complained it was ugly, so it was promptly removed and traditional signaling returned.
Good call.
2) Their postal stamps that double as playable vinyl records
The coolest postal stamps in the world just might be these tiny vinyl record stamps from 1970s Bhutan. Made of plastic and embossed with a melody, these fully-functional records were created to play clips from the national anthem, a narration of the history of Bhutan, and folk songs. You could actually fix these stamps to an envelope, mail them to a friend in Germany and they would be able to play the music on them with a turntable.
We give this a stamp of approval #punintended
3) They sleep very well
In Bhutan, getting your daily eight hours of shut eye is important.
So important, that it's also included as one of the measurable categories in Bhutan's 2015 Gross National Happiness index. Last year, the index revealed that 66.7% of Bhutanese are consistently well rested.
This is significantly more than many other countries, including India. We're jealous.
4) they're hardcore about protecting the environment
Conserving its environment is one of the four main pillars by which Gross National Happiness is measured, and it's even written into their constitution.
Consequently, hydropower provides electricity throughout the country, minimizing the need for firewood and consequently keeping the country's forests intact. Then, in 2012 Bhutan officials that farming would become completely organic. And the country is also working on a ban on using plastic bags.
"The environment is important for us, it is important for the world," said Bhutan's Prime Minister, Tshering Tobgay.
We couldn't agree more.
cue Michael Jackson's Heal The World
5) Bhutan has a low crime rate
Incidents of petty crime are occasionally reported in the country. Violent crime is very uncommon, and murder is almost unheard of.
All this makes Bhutan one of the most peaceful countries on Earth; its ranked 18th out of 162 countries to be precise, according to the Global Peace Index 2015. India, by comparison is 143.
6) Gross National Happiness> Gross Domestic Product
It's refreshing to see a country that measures progress in terms of happiness instead of money.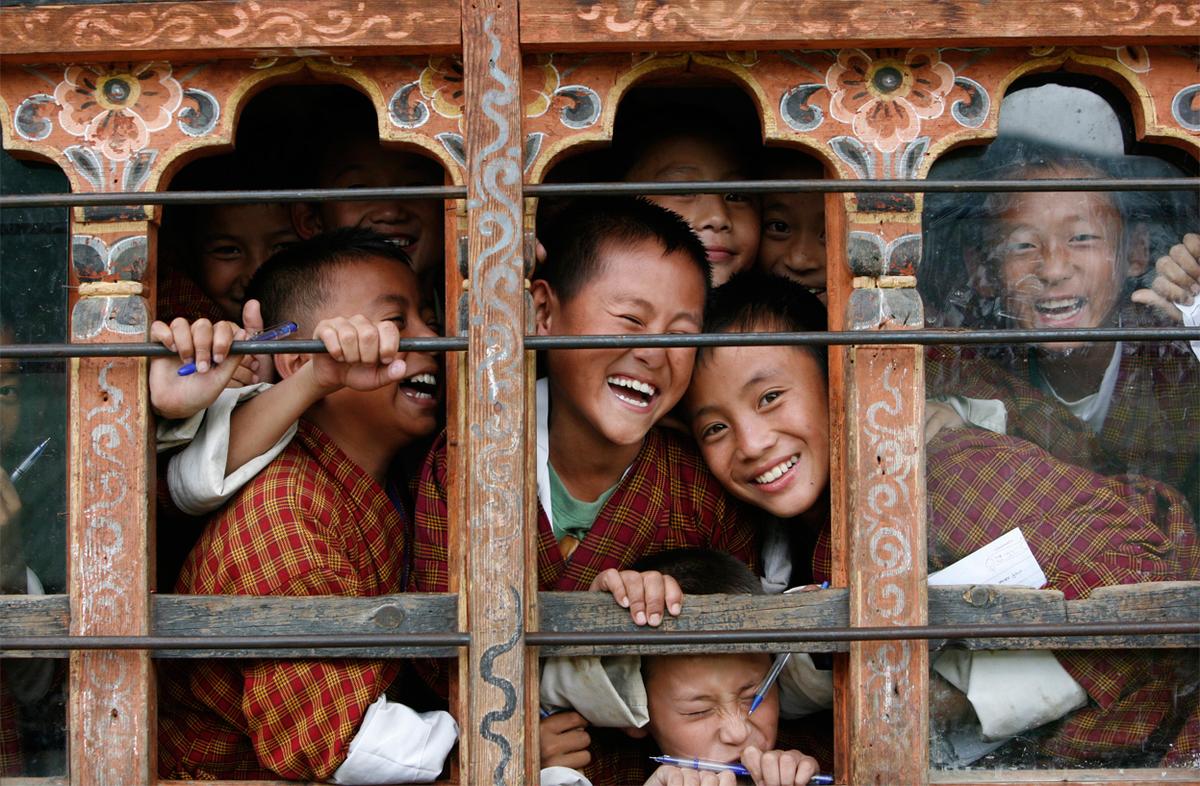 And Bhutan takes its happiness very seriously.
Daily mindfulness and compassion meditation, emotional wellbeing and reflective gardening is taught in the public school curriculum, and soothing traditional music replaces the clang of the school bell; road signs dot the roads such as 'Life is a journey! Complete it!' encourage a carpe diem way of living, and monks preach about GNH on the radio.
7) Bhutan has a predominantly matriarchal society
Constitutionally, women are awarded equal rights as men. This, of course, does not mean that it's translated into practice. Nevertheless, Bhutan is known as a gender-friendly country where women inherit their parents' property and after marriage and husbands move into their wives' homes. They are actively involved in all areas of economic, political and social life as farmers, entrepreneurs, doctors, engineers and homemakers.
8) Everyone's birthday is on New Year's day
On Losar, New Year's Day, which is celebrated between February and March, allegedly everyone officially becomes one year older on New Year's Day in Bhutan, thereby neatly avoiding all the drama that occurs when one inevitably forgets someone else's birthday.
Smart thinking, Bhutan.
Related Experiences