There's no reason why you can't perfect the lotus position and travel the world at the same time.  So, here are some of the world's best yoga destinations, with suggestions from Manish Pole, founder-director of Total Yoga. Each of these places offer culture-packed, nature-engaging, healthy and invigorating wellness experiences, and will inspire you to find your mind, body, passport connection.
If you really want to get away from it all and recharge your chakras, then what better place to do so than on a bona fide paradise island? Here, you can choose from a range of retreats with disciplines ranging from ecstatic dance to Yin yoga and Vinyasa flow, and roll out the mat surrounded by Bali's beautiful countryside.  And when you're not bending over backwards (literally) on your way to nirvana, there's plenty of time to ride the surf, visit local villages and learn to make Balinese cuisine. Elevate your spirits and return home wiser- not to mention more flexible.
2) Goa
"If you want to have a holiday with yoga practice in the morning and evening and beach time the rest of the day – then Goa is definitely the place to be!" says Manish.  Here, you can meditate and practice for hours, surrounded by a panaromic view, the soothing sound of the waves and the smell of the ocean – so "it's only natural that Goa attracts thousands of students to this idyllic beach-state" he adds. "The whole of Goa is hugely interesting – from pristine beaches, shack-living and dolphin cruises, to hillside treks and the party scene! You won't be bored and you have all the time to contemplate life as you take in picture-perfect sunrises and sunsets!"
3) Sweden
With a serene, pristine landscape seemingly tailor-made for meditation and yoga, Sweden is an ideal destination for a European retreat. Here, you can stay in traditional red farmhouses, and deepen your practice surrounded by lakes, forests and fields, in the crisp, clear air. In the winter, you can also enjoy skating or a romp through the snow on horseback, passing little villages that pepper the landscape.
4) DharamSala
Expanding your practice from the yoga mat to your life in Dharamsala, the birthplace of yoga itself is "a dream come true for yogis from around the world" says Manish. Not only is McLeodganj home to "temples, monasteries, stores and cafes serving delicious thukpas, it's also the official residence of the Dalai Lama" he adds. Here, you can attend meditation and pranayam classes led by experts, go hiking in snow-capped mountains, visit the Tsuglagkhang Monastery, the Dalai Lama's residence ­­— AND learn to dance the salsa, watch movies, and make tons of memories in the majestic Himalayas.
See our complete Himalayan Yoga Adventure itinerary here.
5) Brazil
The combination of the county's vibrant energy and scenery that's absolutely crying for you to sun-salute it, makes Brazil a destination that should be on every yogi and yogini's list. You can stay at one of many eco-chic retreats, starting your mornings with invigorating pranayam sessions and swimming or snorkeling in the ocean, and enjoying workshops focused on breathing, meditation and relaxation during the day. And there's plenty of time to take in attractions near you, from the Christ the Redeemer statue to ancient Incan ruins. Brazil is basically one giant outdoor yoga studio, so no matter where you choose to practice, you'll come back feeling zen and suntanned.
6) Rishikesh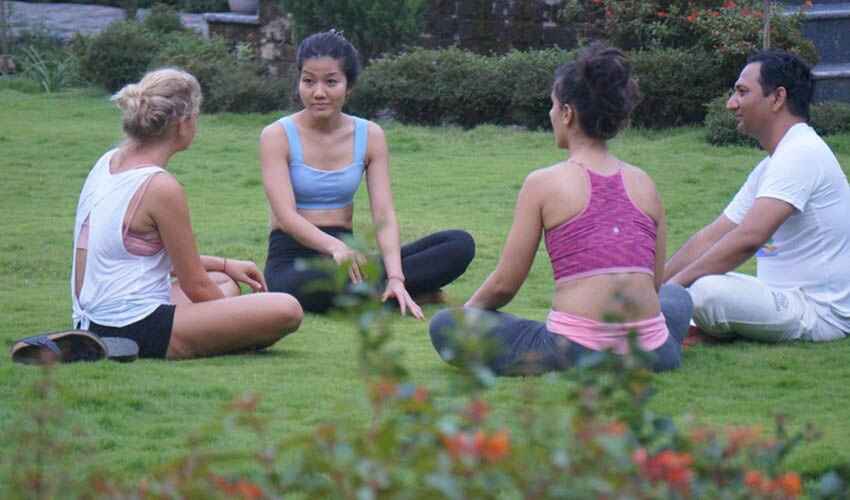 But, what better place for yoga than in Ladakh? Led by our travel designers, Total Yoga, you can meditate and practice asanas with the majestic Himalayas as the backdrop, mingle with ruby-red robed monks in monasteries, trek through the countryside and make tons of memories with new friends.
So, pack your bags and book a ticket – and don't forget the yoga mat!
Related Experiences