Ladakh. I was finally here, amidst the barren browns. Having heard of its raw beauty since long, I was thrilled as I embarked on an adventure to my dream destination – a road trip covering some of the most scenic spots in and around Leh.
A Beautiful saga unfolds
Lush green lands whizzed by at breakneck speed. As we ascended the Rohtang pass, pastures gave way to snow-clad terrains, the serene white calming us. From there on, every turn unfolded a new scene. Deep gorges, towering peaks and fluttering prayer flags that reassured us, serving as a sign of human existence. Overarching these minute variations was a bigger change – the land was taking on a more arid look, as trees gave way to stunted shrubs.
The next day saw more of the vegetation disappear. Nature was indeed a master-chameleon, subtly donning a new garb every few miles! One moment it was the sun glaring down, the other, an encounter with soft, fluffy snow.
We slept in makeshift tents, as the wind howled over the valley and the stars twinkled high above.
The morning was cold and snow-filled. We spotted a herd of kiang and it felt as if they were chasing something, but they knew not what. "Isn't that what most of us humans end up doing, in our mundane daily existence?", I wondered. Food for thought, indeed. But first I needed food, and settled on a piping cup of Maggi served by a friendly Ladakhi woman. For now, this would be a welcome digression from my thoughts.
We had come far, from the pleasant greens to the world's highest passes. I could see the change in landscapes, of cultures and people. And I could feel a change in myself too. Being out here gave me the freedom I had been craving all along. My mind resembled Ladakh – vast expanses of nothingness, ready to be rewritten with thoughts. And so I let my thoughts flow, as I gazed at the flowing waters of the Shyok and the Zanskar river.
Nubra: of contrasting textures
By now, I had gotten used to the miles of rough lands. But suddenly, the ruggedness was replaced with the sandy dunes of Nubra, filled with distinct textures.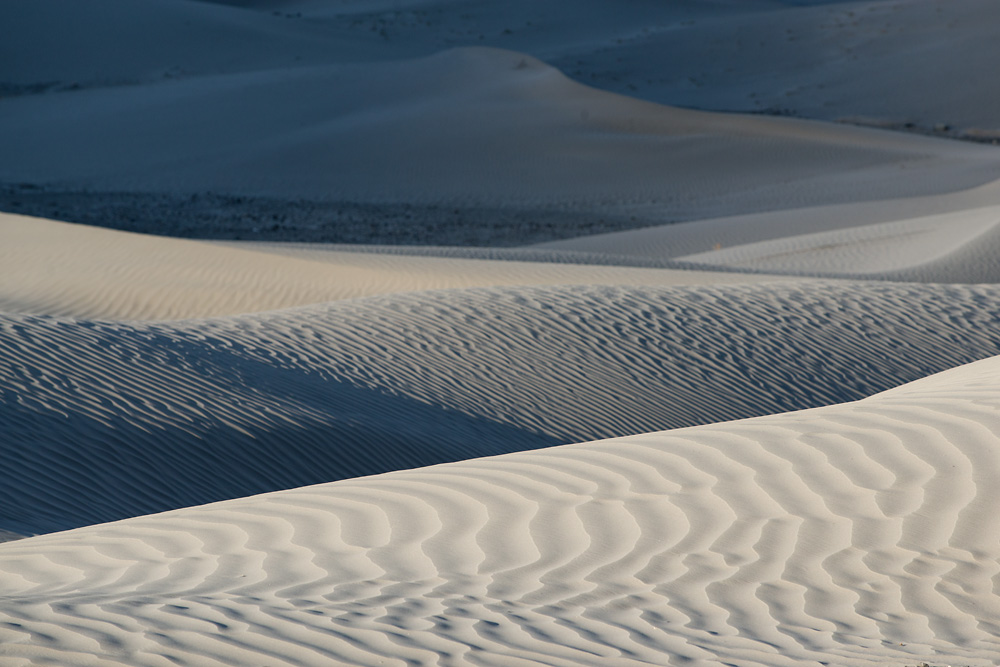 What a surprise! I stood atop one of them and noticed footprints of camels. They paved a path into the surrounding mounts. I wished I could follow that trail someday, oblivious to the world, curious to know what lay ahead.
Turtuk: an oasis in the arids
We proceeded to Turtuk, a town that India had reclaimed from Pakistan during the 1971 war. My mind rejoiced upon seeing a patch of green freshness- apricots trees laden with fruit! Gurgling streams flowed besides every settlement. They were life-givers, transforming barren lands to hamlets that produce the best of apricots.
Pangong: A Mélange of Blues
Pangong Tso was our last destination. The lake seemed to know its own charms, revelling in its pride! Innumerable hues of blue, from azure and turquoise to indigo blue melted into one another. As the sun set on the glistening waters, its fading reflection urged me to reflect on my own life. I thought about how I too had distinct hues within me, that, if blended together, could create magic.
And all along, I had been amazed at the changes Mother Nature had imbibed, each a unique contributor to the beauty of Ladakh. To the normal eye, Ladakh would appear a vast monotony, devoid of any individuality. But on closer look, I realized how the land was special, in its own quirky way. Wasn't I the same- with my many talents, and passions and not-so-perfect idiosyncrasies? As I looked out one last time onto the barren vistas, each of the Ladakhi landscapes flitted before my eyes- the patch of green at Turtuk, the medley of textures in Nubra and the mix of colors in Pangong. They seemed to urge me not to shy away from being the true, unique me!
About the Author
A travel entrepreneur and a travel enthusiast, writer, poet and photographer at heart, Rhucha Kulkarni loves to add a touch of personalized creativity by reliving stories from her life through words and photographs.