Over the past month, we've been fantasizing about exploring Eastern Europe, from beautiful Budapest to charming Prague! And we discovered that we weren't alone in our infatuation – Bollywood loves Eastern Europe too. Rockstar, starring Ranbir Kapoor and Nargis Fakhri was filmed in beautiful Prague and Salman Khan's Yuvvraaj was shot in nearby Austria. (And so, we've put together a trip featuring these cities and much more – CLICK HERE FOR DETAILS)
During our research, we discovered that Bollywood's hottest young actor Tahir Bhasin recently spent two months in Budapest shooting for highly awaited action-thriller film 'Force 2' which he stars in with John Abraham and Sonakshi Sinha (it hits theatres November 18). Bhasin made his official film debut with Mardaani, which earned him rave reviews, a Filmfare Award nomination for Best Supporting Actor, and marked him as a rising star in Bollywood.
So, who better to talk to about the must-do's and must-see's in Budapest than him? We spoke to Bhasin about filming in Hungary's capital as well as his personal experiences living in and exploring the city. Here's what he said:
1) The trailer for the movie has some brilliant shots of Budapest. Can you tell us where these were filmed?
A lot of the filming for 'Force 2′ took place near the Parliament building in central Budapest – you'll easily be able to spot its huge dome which dominates the view in the trailer – as well as the picturesque, iconic Széchenyi Chain Bridge that straddles the River Danube between Buda and Pest, the western and eastern sides of Budapest.
Other spots that the trailer showcases are the Liberty Bridge and the pedestrian-friendly cobbled streets along the Danube, where you can find quirky Art Nouveau landmarks, ornate historical sites and charming cafés. The rooftop chase scenes were shot at the Budapest Stock Exchange.
2) What was it like filming in Budapest?
Budapest is incredibly beautiful, as the picturesque mix of Baroque, Gothic and Art Deco buildings add a distinct Eastern European edge to the skyline.
As an actor and an avid backpacker I was awestruck and charmed by its streets , the cafe culture, the architecture and multicultural past.
Before we started to shoot, I used to take quite a number of long walk tours around Budapest along with students of history and architecture to get to know the character of the city, as it helped to get to know the streets where Shiv – my character in Force 2 – would have spent most of his time.
3) was 'force 2' filmed in any other parts of Hungary?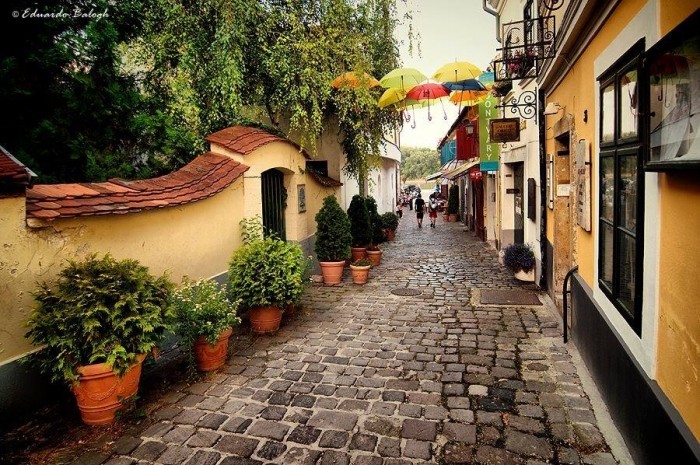 Yes, one of the most exciting chase scenes in the film was shot entirely during a day at Szentendre, a very picturesque village around 20 kilometres north of Budapest.
It is a little village with a Mediterranean feel, and is a very popular tourist destination due to its historical atmosphere, museums, cafés and colourful Baroque homes. During filming, I learnt that the town's original founders were Serbians, who were fleeing from the Turkish occupation of their country. Even the Serbian Orthodox Church moved their seat here around the year 1690, hence the Serbian influence on the town's architecture and cultural life is quite evident.
4) Are Hungarians aware of Bollywood? how did they react when they saw you filming?
Yes, they were very aware of Bollywood – more so now, after we filmed there. Locals in Budapest were enamoured by the many stunt bikers and action vehicles on set; in fact, they often imagined the film as Korean or Iranian, as they did not associate such a large stunt team with the song-and-dance image Bollywood has overseas.
The great thing about shooting the film in Hungary was that we had a crew of 150 international film technicians, and over 100 of them were locals, so there was great pride in being part of an international collaboration for a film made for an Indian audience.
5) What was your favourite experience in Budapest?
I loved taking solo walks during my days off, during which I would often wander through the Castle district, which is studded with Budapest's most important medieval monuments and museums. Undoubtedly the most spectacular of these impressive structures is the 18th-century Budapest Castle, a massive 200-roomed palace that, like much of the city, is spectacularly illuminated at night.
Another highlight is the late 19th-century Fisherman's Bastion, a rampart which, during the Middle Ages, was defended by a guild of local fishermen. Built behind the lovely Matthias Church, its Neo-Romanesque towers, colonnades and embrasures have been completely restored.
6) What are some experiences that travellers to the city should not miss out on?
1) A walk from the Chain bridge to the Parliament and St. Stephen's Basilica 2) Seeing the spectacular interior of St. Matthias Church which is completely covered with gold-leaf frescoes 3) Having a drink of Palinka, the local liqueur 4) The famous Széchenyi thermal baths
7) Any local restaurants that you recommend?
Cafe Ruszwurm, which is one of the oldest traditional cafes and confectioner's in Budapest.
8) DDLJ put Switzerland on the map for Indian travellers. Do you think Force 2 will do the same for Budapest?
Well, it has already had an impact within the industry as after Force 2, two films from Bombay that are currently under production are shooting in Budapest.
(Laughs) Regarding the DDLJ analogy, if a project I was involved in can inspire people to explore and travel to a different part of the world, it would be a great sense of achievement. Right now, I really look forward to people getting to the theatres first.
Is your interest piqued? Would you like to follow in the footsteps of Bollywood superstars and see all these beautiful Eastern Europe cities for yourself? Then, join us on an Eastern European travel extravanganza this December!
In the company of a fun and adventurous mixed group of travellers, visit Budapest, Vienna and Prague – AND Salzburg and Dresden. We'll visit ornate palaces and relax at charming cafes; we'll go ice skating in front of a castle and unwind at warm thermal baths; we'll eat rich, tasty Hungarian stew and absinthe gelato in Prague, and enjoy great company and memories to last a lifetime. CLICK HERE FOR DETAILS.
Related Products