You know how today's world is overrun with chaos and distractions? It's so easy to get overwhelmed, feel drained and before the day even begins, exhaust yourself physically and mentally. However, there is a way of life that can help avoid this fatigue, and Yoga is increasingly becoming the solution.
This International Yoga Day, let's embrace a part of this lifestyle. We've Manish Pole, co-founder of India's leading Yoga School 'Total Yoga', talk about 7 simple Yogic practises that anybody anywhere can follow for a healthy mind & body:
1) The Mindfulness Routine To Start The Day With More Clarity
Also known as Sahaj Pranayam, this is the art of deep breathing, combined with contemplation. Spend 10 minutes in silence (set an alarm) and start by taking 10 deep breaths. After doing so, continue to sit until the alarm rings.
Sahaj Pranayama is useful especially when you're on a holiday. Your routine becomes haywire. You're waking up at different times. You often do a lot more than during a normal day that tends to either overwhelm or tire you. Through this simple practise, you can attain clarity of what the day has in store for you, keeping you fresh and active throughout.
When is it best done? In the morning. Once you wake up, you can practise this and just let the day's plans run through your mind. You'll feel more centered and sorted to start off with your day, feeling energetic.
2) Yoga Pawanmuktasana To Keep The Body Active
A series of routines for your joints and muscles, the Pawanmuktasana involves rotating the neck, shoulders and hips in both directions, stretching sideways and bending knees. Basically, take about 5-10 minutes to stretch all muscles and loosen your joints.
This makes a huge difference when you do a lot of walking. The Pawanmuktasana keeps you from feeling tired and drained easily. Plus, it helps boost your immunity.
When is it best done? In the morning. Spend 10 minutes doing this in the morning and voila! You'll feel active and energetic for the rest of the day.
3) Dhyaan For A Calm & Relaxed Mind
Sometimes, the best thing that you can do for yourself is keeping your eyes closed. And that's Dhyaan. As simple as that. You sit straight in a comfortable position, with eyes closed and do some deep breathing.
Why is it important? Let's imagine you're in a bus/train/plane and it's a long journey. You spend a lot of time looking out the window. It's fine to do that, but if you just spend 6 hours looking out the window, by the time you reach your destination, you're really tired. Dhyaan helps you get through this. You feel much more calm and relaxed when you reach your destination and you'll have the energy to do everything that you'd planned!
When is it best done? Anytime. Whenever you feel like you need to clear your head and get away from the chaos. And listening to music while doing this enhances your whole experience – it's like mindfulness meditation.
4) The 'Tree-Pose' To Strengthen Your Lower Body & Improve Balance
Called Vrikshasana in Sanskrit, this is symbolic of the balance and calmness of a tree. Fix your gaze at one point, bend your right knee and foot, and place it on the left inner thigh, with hands held above your head (Note: avoid raising the arms in case of high blood pressure).
The tree pose is a tool for strengthening your lower body. Standing on one leg enhances the strength in your ankles and feet, and strengthens your thighs. It also improves your sense of balance, preparing you for long hikes and hectic days.
When is it best done? In the morning. Start your day with this routine to keep your legs strong and active for the rest of the day.
5) Journaling For The Traveller Seeking Happiness
Yes, this is a yoga practise. As a mindfulness routine, it's great to maintain a travel journal where you'll be able to write down all the things that you did through the day.
It allows you to highlight memories. Often, studies show that happiness is dependent on memories more than anything else. And it helps to remove/reduce the effect of any negative experience that might've happened to you (that way, you don't spend too much time rueing bad memories).
When is it best done? Right before you sleep. If you're able to go to bed every night with an experience that is more happy as a memory, it makes you feel that the day overall has been much more eventful and happy.
---
Liked what you've read so far? For more useful reads on health & wellness, travel tips, early notifications on special offers and inspiring stories, sign up for our weekly newsletter (it's free)!

---
6) Stretching Asanas For Better Blood Circulation
This is a combination of basic practises for the body, as simple as getting up and just walking, taking 300-400 steps while doing some deep breathing, and coupling that with a few stretches.
This helps in blood circulation, and prevents your body from feeling sluggish. It also helps destress and prevents the accumulation of toxins.
When is best done? During long journeys. When you're travelling and have to make do with the little space that you have, it's great to follow these simple steps to keep your body healthy.
7) Yogic Sleep For Rejuvenating Mind & Body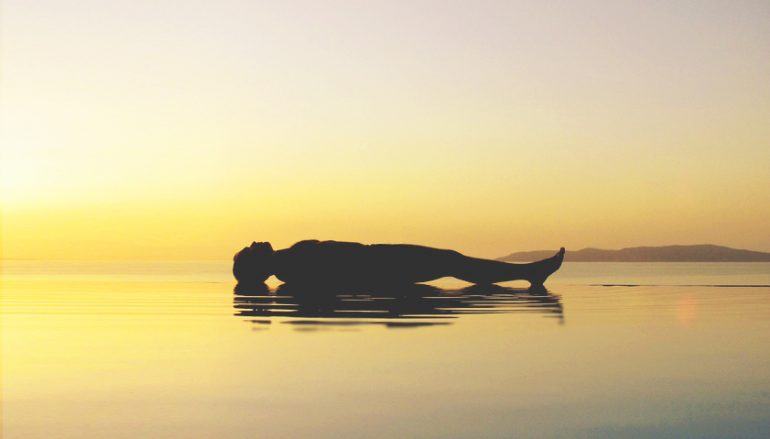 Loosely defined as 'Yogic Sleep', Yoga Nidra is a state of consciousness between waking and sleeping, the 'going-to-sleep' stage. Relax every part of your body, focus on deep breathing and discover a state where your nerves unwind and you are totally relaxed physically, mentally and emotionally.
It's really helpful when your mind and body needs to rest, especially in a world full of distractions and chaos.
When is it best done? During night time. One hour spent doing this, is equivalent to more than 4 hours of deep sleep!
Related Products