Good-looking locals. Great food. Sunny days. And gorgeous long drives. Spain is a destination that has often been titled the ultimate holiday destination. But this is no surprise to us. (We're going to Spain + Portugal this 2020. CLICK HERE FOR MORE INFORMATION.
From the best wines to the quirkiest (yet impressive) monuments, there are many reasons why people love Spain. Here's why you will too:
1) Spanish beaches are often secluded and untouched
Spain has over 5,000 miles of beautiful Mediterranean coastline, dotted with hidden, tiny unspoiled coves. Here, you can kick-back and unwind, enjoying the feeling of having an entire beach to yourself. You can lazily sunbathe under the warmth of the Spanish sun, burrow your toes into soft, golden sand, swim in warm cerulean waters, breathe in the salty smell of the sea and revel in the feeling of being far, far away from the rest of the world. Bliss.
2) Where else can you find 300 days of sunshine?
That's right. Spain is the sunniest country in Europe, and its Mediterranean coastline, from the Costa Blanca to the Costa del Sol, enjoys an average of 300 days of sunshine each year. You rarely get a single bad day in Spain. So that's 300 days of clear skies, warm, golden rays, icecream, al fresco brunches, sunbathing, street night parties, and a sense of carefree freedom like no other!
3) Sangria- as tasty as alcohol gets
There's nothing like drinking sangria straight from the source. Additionally, an infinite variety of Spanish wines, from cava in Catalunya to sweet moscatel from Malaga means that there are limitless ways to create this drink, and all of them, delicious! ¡Salud!
4) You'll visit monuments straight out of fairytales
Spain has the best avant-garde architecture in the world; cities full of vibrancy, brightly colored and decorated with embellishments. For instance:
but none more so than Gaudi's unfinished spectacular masterpiece, La Sagrada Familia. It's a mesmerizing sight from the outside, looking like a strange cross between a sandcastle and a beehive.
Its interior is even more impressive; massive pillars reach upwards like trees that extend like branches across the ceiling, and its huge stained glass windows dapple the church in greens, blues, reds and yellows.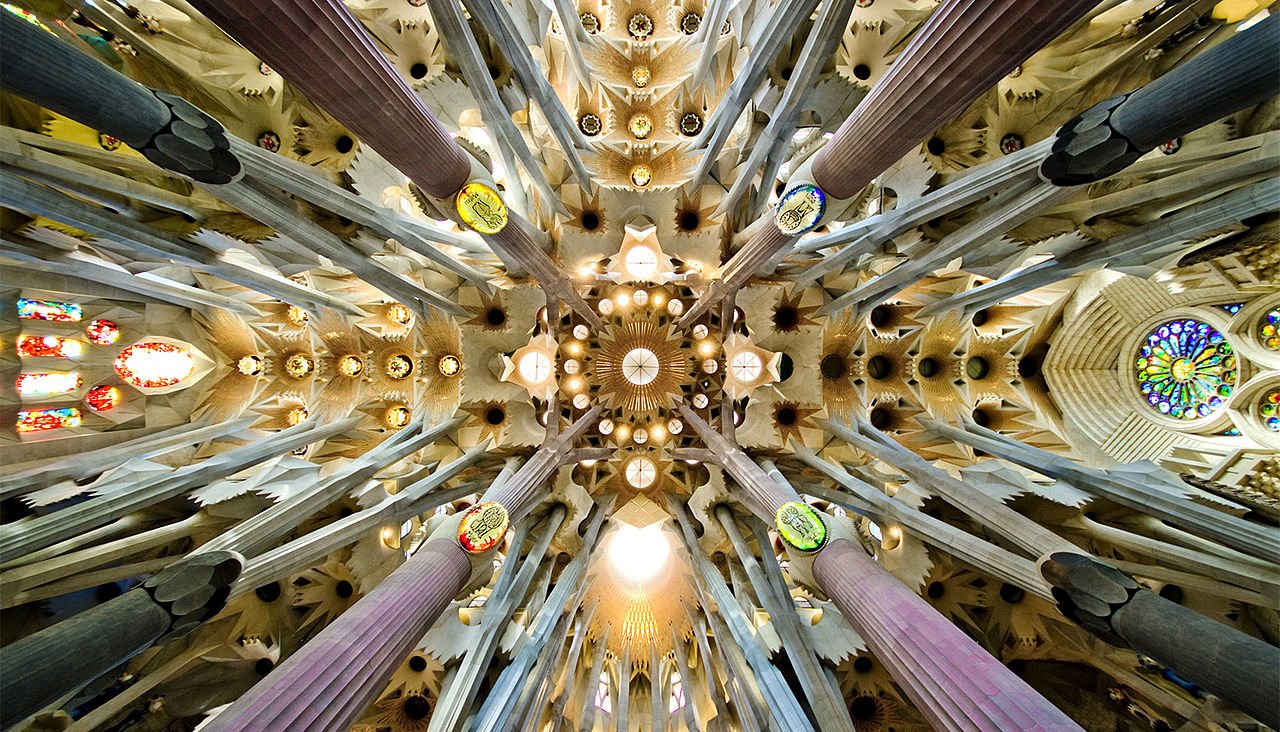 5) You'll find Spanish to be irresistible
It's often billed as one of the world's most romantic languages, with vowels, consonants, words and sentences fitting seamlessly together like a melody. And recently, a study found that it was also the world's happiest language as well!
6) There will be fresh and delicious seafood. Everywhere.
Spain's gastronomy varies from region to region, but regardless of where you are, prepare to stuff yourself with amazing seafood. Fresh fish. Crispy calamari. Melt in your mouth lobster. Grilled prawns. Plump juicy clams. Or just opt for a seafood paella for an explosion of utter deliciousness in your mouth.
7) The celebration and revelry never stops
Spain has festivals taking place all year round, from the infamous Tomatina Festival where thousands of people take part in a massive tomato fight, to the fireworks festival of Las Fallas in Valencia. In fact, every city and town in Spain celebrates its own festival and they can be truly spectacular. For example, Cordoba celebrates a festival of the patios in May with the entire town decorated with flowers, statues and beautiful tiles.
Whatever the reason, and wherever you go in the country, you're bound to stumble upon a colorful, joyful, and unforgettable fiesta. Everyday you're partyin'.
8) The Spanish way of living fills you up with energy
Spain pulsates with vibrancy, excitement and a viva-la-vida state of mind. Whether it's the sizzling rat-a-tat-tat and dramatic stare downs of the flamenco, the Dr. Seuss-inspired buildings that grow with gusto into the sky , youngsters fist-pumping with reckless abandon in Ibiza or eating tapas and drinking beer with relish, Spaniards put their heart and soul into everything they do. You can't help but absorb and project this mantra yourself. It's addictive, invigorating and irresistible; now, there's nothing more attractive than this.
Clearly, Spain's charms are undeniable. No matter where you are in this country – whether it is walking the streets of Toledo, eating the best dish of paella you've ever had in Valencia, or talking to locals in Madrid between mouthfuls of tapas – you'll find countless opportunities to fall quickly in love with Spain.
You want to experience the delights of Spain, don't you? We're headed there this October and as a bonus, we're also exploring Portugal (think fairytale castles, fine wine, glorious sunshine and beaches)! Click here for more details.
Related Products