Every single traveller has fantasized about visiting The Great Pyramids, so it's not surprising this site is one of the most visited attractions in the world – but there's so much more to Egypt! From food to shopping, tanoura dances to ancient graffiti, don't miss out on these experiences!
1. Seeing the Pyramids of Giza in real life
Let's state the obvious first, right?  The Great Pyramids are not only the oldest but the only surviving wonder from the ancient wonders of the world. They are as spectacular in real life as they seemed when you read about them in school, saw on the covers of National Geographic magazines and on the History Channel.
2. Gazing up at the colossal temples of Abu Simbel
Built by Pharaoh Ramses II (the Kanye West of his time) these temples were carved into a mountain face as a monument to himself and his queen Nefertari. The grandeur is undeniable; standing in front of them, you'll barely reach the statues' toenails!
If you don't go to Egypt, you'll never be able to sail down the Nile in 5 star comfort and luxuries like Cleopatra or Poirot and see glimpses of the past in the ever-changing landscape even as time itself seems to slow down.
3. Learning about Egyptian Hieroglyphics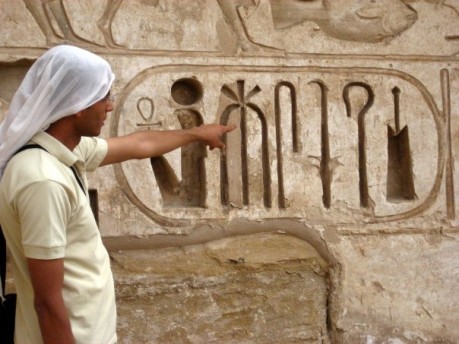 In Egypt, you'll be able to listen as your local guide turns a duck, an eye, a beetle and a cane into vowels, narrating the stories of pharaohs and kings, how people were created on a potter's wheel and about Ra, the Egyptian sun god who would sail across the heavens during the day in his boat  – and be utterly intrigued.
4. Indulging in delicious local cuisine
Koshari, Fuul, kebabs and more. All the different civilizations that came to Egypt in the history of its existence have left an imprint on the food here. Where else in the world will you taste so many cultures on one plate?
5. And learn to cook like an Egyptian too
You can learn traditional Egyptian dishes such as Koshari, a signature dish, with both Indian and Mediterranean influences at a private cooking class, led by a team of expert chefs.
6. Shopping in Cairo's markets
The Khan al-Khalili market in Cairo is one of the Middle East's largest bazaars and the narrow lanes house small workshops making wonderful jewelry, glass, copper, and brassware. You'll be able to find plenty of souvenirs for your friends and family, though to be honest, you'll probably want to keep them all for yourself!
7. Graffiti dating back to 278 B.C.
If you thought graffiti was only a modern phenomenon, boy are you wrong. On monuments, especially in the Valley of Kings, you'll be able to see graffiti left behind from different times and cultures, including ancient Romans, Greeks, and Phoenicians. Even Napoleon and his troops visited, literally leaving their mark on Egypt, as you can see in the picture above.
8. Feeling like a kid again at Fagnoon Art Center
Here, you'll be able to try your hand at a wide range of activities – pottery, carpentry, jewellery making, welding, gardening, rustic baking and more! Mud pit wrestling and water balloon fights add to the fun!
9.Getting dazzled by ancient Egyptian antiquities
The Egyptian Museum houses more than 100,000 artifacts including the world's largest collection of Pharaonic antiquities. Don't miss King Tut's golden mask and the mummies!
10. The mesmerizing Tanoura dancers
Don't miss out on watching dancers in brightly patterned skirts twirl, twirl, twirl and twirl in a frenzy to the quick beat of Sufi music. They're a captivating whirl of color and excitement.
11. A crash course in Egyptian history at Karnak
Hundreds of years of construction went on here under up to thirty pharaohs so that now, the size, complexity, and diversity of this complex are unparalleled. Movie buffs may enjoy searching for locations in The Mummy Returns and Transformers – Revenge of the Fallen.
Intrigued? Then don't miss the opportunity to dive headfirst into all these uniquely Egyptian experiences on a getaway. Book Byond's exclusive group tours for Egypt that leave from India.