From peacocks to chocolate and siesta timings to hole-in-the-wall dining, Michelle Vaz takes us on a tour of Spain's capital, gives us an insider's perspective and shares recommendations on how to experience Madrid the local way. CLICK HERE for details).
Michelle Vaz, 32. Currently living in Madrid, Spain, which is the fourth country that I've lived and worked in. I love travelling, adventure, exploring the cities I live in, meeting people, photography and chocolate. Who doesn't love chocolate?!
Some of the best places to socialize in Madrid are the park (people are more relaxed there and not in a hurry to get somewhere), or at one of the many "inter-cambio" evenings at bars across the city. Inter-Cambio means 'exchange' and these events attract locals and expats who want to practice their English and Spanish, respectively.
3) Can you recommend some off-the-beaten-trail places for visitors to experience Madrid?
Madrid has pockets of places that are best discovered on foot. I love the Parque del Retiro because there are so many pretty spots to explore inside, like the Palacio de Cristal, the lake, and the peacock garden. I also love taking visitors to the Templo de Debod, Palacio Real (Royal Palace of Madrid), Almudena Cathedral, and the Plaza de Toros de las Ventas (the bull ring). (TO VISIT THESE PLACES WITH US, CLICK HERE)
There are also a few neighborhoods that one must visit – Chueca for boutique shopping and shoes, Malasaña for the nightlife and art, Salamanca for high street fashion and Gran Via Street which is sort of the 'main street' of Madrid.
4) What are some great local cafes and restaurants to visit?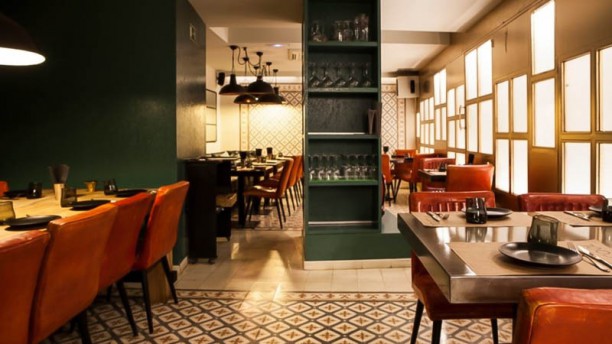 I'd recommend heading to ViCool for a set menu dinner. Here, you'll get to experience Spanish delicacies with a contemporary twist and for a price that doesn't break the bank! Another good option is the Mercado de San Anton which is a gourmet food court with a buzzing ambience. It's a great place to try many different types of Spanish food. For the best churros and chocolate in town, go to Chocolateria Valor. 
At Las Uvas Dulces, try the Berenjana con Miel (fried egg plant with honey, trust me – it's delicious!), croquetas, and crispy shrimp. They serve a mean hamburger too.
Go to La Tagliatella for hearty Italian food and to Twin Pizza for when you're tired of Spanish food and just want some good ol' pizza!
Also, no matter where you go, don't ask for a sangria. Order a Tinto de Verano instead. It's the same thing but if you say sangria, you'll get some overpriced version of the drink.
5) What are some uniquely Spanish activities you suggest people do?
2) Eat tapas and go pub hopping (these two go together)
3) Grab a few fresh beers at an outdoor cafe.
6) What are three things you recommend people buy as souvenirs?
1) Wine from the regions of Rioja, Torro and Ribera del Duero 2) Food such as Valor Chocolate and Jamon Iberico (ham) 3) Alpargatas which are comfy, airy shoes 
7) What are 3 of your favorite places to photograph throughout Spain? Why?
In Madrid, definitely one that tops the list is the Parque del Retiro because every day offers something new that one may have missed before and every season offers different colors.
I like photographing old cities, history and architecture so some amazing cities that I've been to for this are Toledo, Segovia and Ronda.
I also love nature and the ocean. Barcelona and San Sebastian offer some great views for this with their mountains and coasts. 
8) What would surprise most people about Spain?
I was most surprised by the meal times in Spain. Breakfast goes on till about

noon

and the typical lunch time is

2:00 to 4:00 PM

. The typical dinner time is

9:30 to 11 PM

. And night clubs start getting busy at about

2 AM

and go on till the wee hours of the morning. 
9) What advice would you give for those who are interested in visiting?
English is not widely spoken except in the tourist centers so it would help to have a few phrases in your arsenal. The basics like "Hola" (the H is always silent), Gracias (thank you), Por favor (please), Cuanto cuesta (how much does this cost?), Donde esta (where is), El baño/ el aseo (the toilet).
For more:

 
http://www.fluentu.com/spanish/blog/useful-spanish-travel-phrases-words/
Another important thing to remember is that pickpocketing is rampant. These petty thieves have got it down to a science! So always be aware of your belongings, never leave cell phones on a table or a handbag hanging on the back of your chair.
10) Any intriguing observations about Spain as an Indian?

Fortunately for us, most Spaniards are in love with India, Bollywood and "comida indu" (Indian food), so it will be relatively easy to strike up a conversation with a Spaniard by simply asking them if they've visited India or if they know anyone who has.
Don't expect people in the service industry to be overly subservient and polite like in India. Although they don't mean to be brash, it's just their way of talking – very direct and short. People always respond to a smile though.
A lot of stores still observe siesta hours, so expect most non-food places to be closed between 2- 5 PM.
Spicy food is hard to find but you can usually ask for "salsa picante" (hot sauce) and fix a bland meal.
Is your interest piqued or your appetite whetted? Join our Trip to Spain! You'll get to take part in La Tomatina, visit Toledo, go on a tapas trail, watch a flamenco show, meet locals, and more!